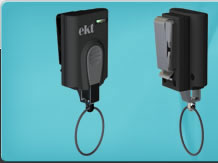 ekt
Order Now
ekt is available as a single unit purchase for $245
Purchase a set of three units and save $40
First three units purchased come with a 30 day money back guarantee
order
ekt

electronic key tether

First three units purchased come with a 30 day money back guarantee. If you have a need for 25 or more ekts, contact us for additional discounts, customization and/or leasing options.
ekt

single unit
Price: $245



4 AAA batteries included
Key ring sold separately

ekt

set of 3
Price: $695


save $40




12 AAA batteries included
Key rings sold separately
3

ekt

Key Rings
Price $5.95



Green Lucky Line 5" nylon coated Twisty Key Ring. Made from strong, flexible aircraft cable. Unique locking mechanism assures keys stay put. Crimp for permanent closure. Length is measured with the Twisty open and lying flat.
Shipping/Handling and applicable sales taxes calculated at check out
Allow up to two weeks for delivery of ten units or less. Call for delivery times on larger orders.
Did You Know?
The majority of master keys today are simply protected by the traditional key ring attached to a belt loop. This method of key control has remained unchanged for well over 100 years.
Re-keying the buildings on a typical college campus due to master key loss can cost up to $100,000.
Testimonials
"EKT is the only [key control product] that aims to stop keyloss before it happens! Imagine zero key loss, that's a dream come true for any building or facility where multiple people are carrying master and sub master keys."

David Sullivan, CPP
Police Officer & Former Security Branch Manager.